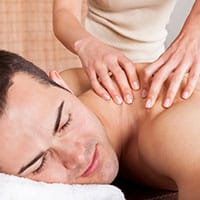 A massage, tailored to stimulate relaxation and enhance general well-being. The strokes applied in this fabulous stress buster may also improve the immune system, encourage detoxification, improve muscle tone and reduce cellulite.
You can choose from a full body massage, or you can request problem areas are worked on, such as neck, back and shoulders, any area where you hold tension. This treatment will usually involve a light or medium pressure being applied, resulting in a relaxing and effective treatment.
Whether you are always rushing around or have adesk based job and are in need of relaxation this treatment is great for de-stressing and reducing tension.
Your needs at the time are always taken into consideration, so you'll receive a tailor made treatment.